Professional Care Only
With us, you get the most professional antique rug cleaning service in Aventura. We understand that your rug is precious and that is why we treat it like our own.
Old stains and fresh stains such as urine, blood, coffee, vomit, wine, beer are not just unpleasant but can also be damaging. Over time these stains will cause irreversible damage to your rug. A lack of cleaning can cause rot to set in and will cause a bad smell. If rot or mold appears they can devastate not only your prized rug, but the entire flooring! Getting rid of mold is more expensive than keeping your antique rug clean on a regular basis. To prevent mold damage in an early stage, regular mold testing is recommended.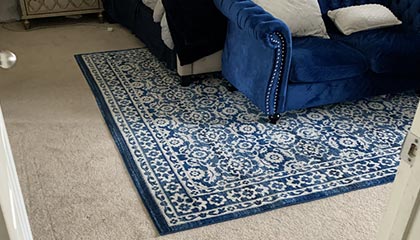 Best Cleaning Technique for Antique Rugs
We treat every rug with our professional cleansing process. First we perform an inspection so we can give it a bespoke clean. Second we blow compressor air to remove debris. We then do a dye bleed test to ensure all the colors will not bleed during the washing and drying process. The rug is then washed with a sanitizing deep clean, then rinsed thoroughly. Drying is then delicately performed with care and the rug is then groomed so it looks in peak condition. Finally, our technicians will perform an inspection so we are sure that the rug is ready with 100% satisfaction.
We Know How to Clean Antique Rugs
It's crucial that your antique rug gets the TLC treatment its manufacturer would approve of. Improper cleaning can ruin your rug. We are professionals and we take cleaning antique rugs seriously. We have the right equipment, chemicals and most importantly the knowledge of how to restore your rug the right way.
Give your antique rug some TLC, get in touch today!