When Should You Test Your Place for Mold?
If you smell a musty, stuffy odor.
After a sewage backup, a leak, or a flood.
If a person or a pet has allergic symptoms.
You performed mold remediation before.
If you have a moist basement, attic, or other places.
Before buying or selling a house or property, especially if mold was discovered during a home inspection.
If a damaged roof has caused water to pour into your house or office.
Even if you don't see any of these signs, you can still have mold testing just to make sure your place is mold-free and safe.
Test and Inspect Before You Remediate
Mold inspection and mold testing are not the same things. Mold inspection determines whether mold is present. It also determines the scale of the problem, which is defined by square footage. Based on our visual investigation and the property's history, we propose sampling and laboratory analysis.
Mold testing helps identify a specific type of mold in your home and the number of mold spores present in the air. Mold testing is an important step to improving the air quality of your home - especially if you have an allergy or asthma.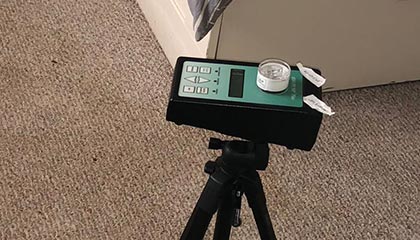 How Is Professional Mold Testing Performed?
Mold may hide behind walls, in attics, basements, and on roofs, even though part of it is apparent. Please contact us and we will send a highly skilled mold inspector to do the necessary mold inspection and testing. Mold testing experts are familiar with the most typical hiding spots for mold and how to locate it quickly and effectively.
Our mold expert will take the control sample and sample from the affected area, send it to an independent laboratory, and recommend to you the most effective mold remediation service based on the mold testing results.
Our Mold Experts Keep Your Home Healthy
Sunbird Carpet Cleaning Aventura offers a variety of services, including:
testing samples from air and surface;
visual mold inspection;
checkup on water sources (water leaks, moisture, damp areas, etc.);
black mold detection.
We provide clear mold answers and reporting. If desired, we'll come back once the remediation is finished to conduct clearance testing to guarantee the mold was properly eliminated.
Professional Mold Testing: Is It Expensive?
Most mold testing services involve taking samples of either a suspicious substance on a surface or air. The cost depends on a variety of factors, including the number of samples, the need for indoor and outdoor air tests on mold, mold remediation protocol, etc. If you want to know how much will cost mold testing in your property, call us at 305-677-2508.
Visual Inspection and Mold Testing Near Me
Sunbird Carpet Cleaning Aventura provides mold testing services in Aventura, FL.
We are constantly striving to improve our response time and services for our customers. To this end, we are happy to introduce our local partner, O2 Mold Testing of Miami. They operate throughout Broward County and Miami-Dade Dounty, with professional training and experience to make sure you get the results you can rely on.
If you suspect mold in your office or home, don't hesitate to call us to set a time for inspecting and testing your business or home. Save on restoration costs with early mold detection!