Damage Restoration After Water Leaks
Several occurrences can lead to water damage in your home or office. These occurrences include, but are not limited to:
Broken pipes and clogged sewage system;
Blocked drainages and leaking roofs;
Washing machine line leaks;
Water heater leaks and HVAC system issues.
As soon as these problems occur, it is best to call Sunbird Carpet Cleaning Aventura at 305-677-2508 for water damage remediation right away. When it remains for a while, water will not only leave your living/business space messy, but it can also cause damage to the structure of your building, ruin your paint and wallpaper, and make your home a cozy habitat for mold. We'll make sure that we will give your water damage emergency the top priority it requires. For large and small water damage jobs, we sometimes work with Flood Damage Pro, the water damage restoration experts. They are fully certified, licensed, and insured, with stellar qualifications.
Upon arriving at your home, we inspect the leak, extract excessive amounts of water, dehumidify the area and go on to restore your space, as we have done for a thousand other homes.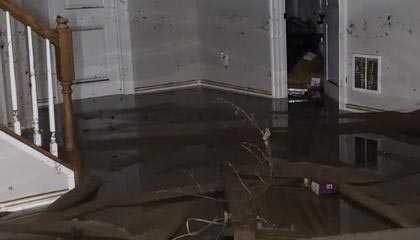 Restoration After Floods and Storms
While water problems resulting from leaks can be easier to halt the damage, storms and floods are usually more challenging to control. However, just because you can't prevent these occurrences doesn't mean your home should remain messed up afterwards.
This is where our flood clean-up and restoration expertise comes in handy. We ensure that your space, including your furniture and upholstery, goes back to what it was before the flooding.
Our Water Damage Services in Aventura, FL
Your wellbeing is our utmost priority, and as such, we send an emergency water restoration response team to your premises immediately when you reach out to us. Of course, this team comprises experts with decades-long experience in handling water damage. They also restore your space using the most advanced equipment in the industry. So, you can rest assured that your space will be handled with absolute professionalism.
Water Mitigation, Drying and Dehumidifying
As soon as our experts arrive at your premises, we look for the complete scope of the leak, to determine the area that must be addressed. We then proceed to dry up all unwanted water bodies. We also dehumidify your premises using high-grade dehumidifiers to ensure that we leave no atom of excess moisture behind.
Cleaning of Damaged Areas
If the damage has caused any mess, we clean it up professionally and dry movable items that have been affected by the damage. In no time, that flooded area in your home will be as dry as a bone!
After our restoration service, and on your request, we also carry out services like sanitizing and disinfection, mold removal, carpet, rugs, upholstery cleaning, etc.
Call Us for 24/7 Emergency Water Restoration in Aventura, FL
Why wait for water to cause damage in your attic, your crawlspace or to your precious furniture? Call Sunbird Carpet Cleaning Aventura today: 305-677-2508. We'll be right on time to salvage your space. We also work round the clock for emergency cases of water damage - 24 hours a day, 7 days a week, 365 days every year!