Experienced team
Sunbird Carpet Cleaning Aventura specializes in area rug cleaning and has experienced professionals who understand what method and solutions should be used for each rug. We have the blend of latest solutions with the traditional approach of hand-washing to remove dirt, stains and odor from the deep layers of the rug, restoring the rug back to life for many years of use.
As a local service provider, we have the advantage of being able to care for your rug at your home. We can pre-inspect your Persian rug and even perform the restoration work onsite and finish off work timely and effectively on the same day.
To save your time, you can order other services from us within one appointment:
Fighting off rug stains
Rugs are absorbent and tend to hold onto pungent smells from coffee, beer or wine spills, pet accidents, and even vomit. These old stains not only settle down and could break the natural fibers of the rug. But also hold the germs and viruses which are a potential threat for family health.
Surface cleaning is not enough to remove such stains and odor, so a professional cleaning service is required.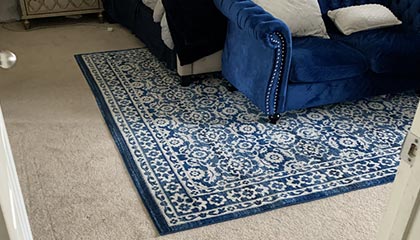 Types of Persian Rugs Fibers and the Cleaning Process
Persian rugs are usually made up of wool or silk. So, we strongly advise professionals be hired for the restoration of the rug. Our experts carefully inspect the rug and select the right tools and techniques depending on the fiber type, soil level, and condition of the rug.
Vacuuming is done to remove the maximum dirt from both sides. This is followed by a deodorizing method to treat fresh stains and odor; stubborn stains require expert treatment with correct pH shampoos and cold water.
The rug is then thoroughly rinsed and immediately dried to avoid any color bleeding.
Finally, scotchgarding can be done optionally to protect it from future accidents, which helps to increase the life of your rugs.
Why Choose Professionals?
Persian rugs are highly expensive and require extra care for cleaning and sanitation. Professional cleaning services use methods which extract dirt, debris and stains from the deep layers leaving rugs beautifully clean and sanitized.
To experience excellent cleaning services, contact us today!