Our couch cleaning process
It can be a tough life for a couch. As the relaxing and party centers of our home they are susceptible to a lot of stains. Stains like blood, coffee, wine and beer can leave ugly spots. Cigarettes, milk, vomit and even pets can make a couch smell like a place you wouldn't want to sit.
Our cleaning process is rigorous on stains yet gentle on the fabrics of your couch. Our technicians use approved upholstery cleaning solutions for all types of fabrics including: real suede, leather and velvet.
Step 1: Clean

The technician applies the appropriate upholstery cleaning solution to loosen and remove the dirt in the microfibers of your couch. This cleaning solution acts as an enzyme treatment shampoo for your furniture.

Step 2: Rinse

A combination of fabric rinsing and vacuuming is used to cleanse the fabrics from stains, dirt and odors. Your couch will then be sanitized and deodorized. It will be looking, feeling and smelling like new.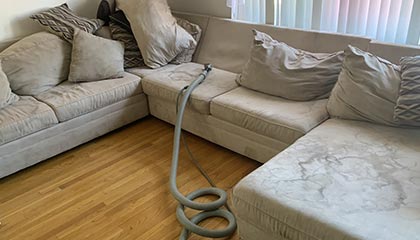 Why choose us for cleaning upholstered couches?
We are experts at removing all types of stains and odors from the fabric of your sofa. We do so with the utmost care, bringing your couch back to its former beauty. Our cleaning technicians are second to none, they use the latest cleaning techniques to cleanse your couch of dirt.
You can combine a few services from us within one appointment. Choose from the list below:
Do not ruin your leather and fabric couch!
Some people may be tempted to do it all by yourself but you could ruin your couch. Improper techniques and use of cleaning chemicals will damage the fabrics of your furniture. Most times the damage is irreversible and your couch is ruined. Let us take all the hassle off your hands.
Make your couch worth sitting on again. Contact us now to give your couch some tender loving care!